I've been to this place, Cebu Tabo-an Market, many times over, but I wonder why I still can't memorize the jeepney code coming to this place so I always end up hailing a cab. Early this month I brought the kids here – sort of field trip. It's their first time so I thought they'll just walk around with me silently, but kids as they are they really can't keep their mouths shut. So my lil boy asked her sister;
'Ate, ever wondered where have all the fishes gone?'
The Ate replied with her forehead creases on; where?
The lil boy answered back waving his point finger and said; 'they're all here, see those? And you're so cruel you'll be eating them,'
Heck, what's with this conscience lesson when we're here trying to buy danggit and my favorite fish tocino.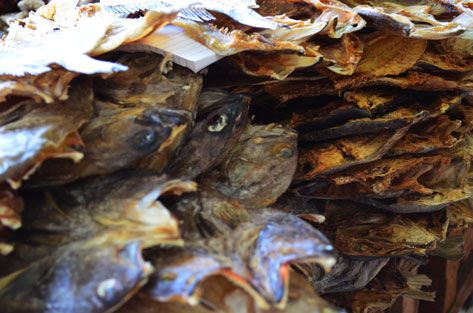 Anyway, If you happen to travel to Cebu, Taboan Market is a place you shouldn't miss visiting, if you don't know the jeepney code that will bring you here, just hail a cab, it's a dried fish haven, danggit and nocus being two of my favorites. They sell cheaper than those displayed in the malls. There are also other Cebu delicacies that can be bought here, my ever favorite Cebu tocino, dried mangoes, ampao and so much more.
Just a tip:
If you're heading to another event right after Taboan dried fish buying, I suggest you bring an extra shirt with you; the smell of the dried fishes just won't let you go … they'll really cling right into your shoulders and all over. And one more thing, hotel staff has this extra sensitive nose to dried fish smell, so the moment you pass by the information counter, they'll know you brought 'bulad' effects with you, they'll likely tell you to deposit it in their safe so as not to make your room smell like Taboan.