I was cleaning and sorting up our pre-loved stuff at the basement when I got hold of an old album all sheathe with dust, I previously thought my mom had thrown away them away since I hadn't seem them in a long time, I sighed in bliss knowing that they're just there before me, flipping the pictured boards made me wander in that momentous days of my life in 20s.
It's a photograph album that holds the happiest and wearisome memories of me and my long lost friends trailing Mt. Candalaga in 1998. It was just a spur of the moment decision, the group immediately agreed and before we knew it we're already on our rucksacks, packed our sleeping bags and had all our camping equipment ready to joining the national mountaineers climb to Mt. Candalaga.
Mt. Candalaga is one of the most astounding mountains in the island of Mindanao, Philippines; this majestic peak is set in the picturesque province of Compostela Valley. Mt. Candalaga is not a just range of mountains, it holds the richest and the most stunning flora and fauna you could ever imagine. It's filled with mesmerizing folkloric tales and breathtaking waterfalls.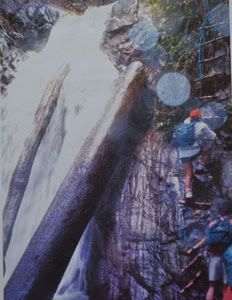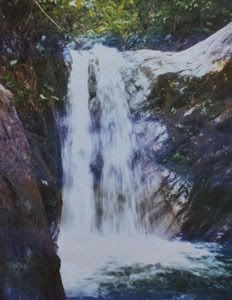 Just two of the splendid and most refreshing 13 waterfalls to the next campsite  The one in red hat (left photo) is me. To me, this was my most daring stunt I've done in my entire life, this swinging, roped ladder give me only one choice – to step up, stepping down was never a choice, you'll push down the people below you. But I did it with pride! (lol)
All complete with our camping equipment we were loaded in a dump truck that sent us to the base camp, the dump truck ride was the boisterous ride I've ever had in my entire life – unforgettable.
Mt. Candalaga is decked with 13 waterfalls, I've drank, sensed, elated and got awed by those awe-inspiring cascades, especially the welcome falls, Marangig Falls – it was a refreshing secluded fairy land – magnificent.
There are times when I'd really want to give up along the way, but thinking I have to go down back alone – my only choice was to move up and reach the camp site before its dark.
Stopovers in the middle of nowhere
Sure enough after a day of sharing my precious blood to leeches, eating grilled eggplant and calling all the gods along the way, we've made it to the camp site. I actually can't remember anymore how we've managed to put up our tent in the dark, cooking our food to fill our empty and rumbly tummy was another challenge, the sardines was the most sumptuous food one can ever had at 2,402+ feet above sea level. And finally, after all the camp ruckus and all, laying our body in our sleeping bags laid inside our tents was the most luxurious feel ever amid grassy, cold, dark, deafening meadow atop the mountain.
Early morning pose at the camp site
The next morning 'down-trail' was also enlivening, after hours of holding on to the lush greenery and hearing the forest talk, you'll be greeted by this scenery, you can hear everyone one at your back sighing, panting, and saying – 'wow'!
 It's been years that I got stuck in this house, you know when you change life course, you'll likely not be able tread this trail anymore, but I was glad that once in my life I've walked the road less traveled, literally.
If you're a mountain enthusiast and want an experience of Mt. Candalaga, you can contact the Tourism office of Maragusan, Compostela Province, you'll likely to enjoy your trek more if you'll have your intentions known at this office.