While everyone out there gone gaga over fun on the sand and sun, we're right out here making work fun for farm under the sun
Yeah, we had our second trip to Nestle Experimental Demo Farm in Tagum City few days back to have our second truck loaded with Robusta seedlings. I brought the two kids to see what it's like there. NEDF is an 11-hectare coffee-based demonstration farm where Robusta seedlings are propagated using asexual method, it also adopts the technique called cell culture using somatic embryogenesis which results to a true-to-type, high-quality seedlings grown in a shorter period, and on top of that NEDF also conducts technical assistance to coffee farmers covering the latest in terms of coffee production, nursery management, planting, cultivation, harvesting and marketing.
I hope our humble 10-hectare family farm will be of help to somehow reverse the trend of coffee importation, for that to happen we have lots of sustainable farming jobs to do.
And these are the future coffee farmers monkeying around NEDF office, they actually requested for bottomless coffee after getting tired
Happy farmer, oh, you still need to work on your ram pump project to water your farm sustainably, farmer boy!

These are coffee workers  at the nursery loading the seedlings, NEDF sells these seedlings at P12 each. A hectare of land planted with these seedlings, given good area|farm condition, would yield an average of 1.5 tons of green beans. At a buying price of P89/kg [this price fluctuates owing to supply and demand] but roughly a hectare would gross up to P133,500.00. Production cost would run up to P30,000.00/hectare so a projection of P103K/per hectare would be achieved. We really hope so, but we're putting our projections on a conservative figure so as not to get frustrated. But with high hopes and hard work will make it happen, crossing toes and scythes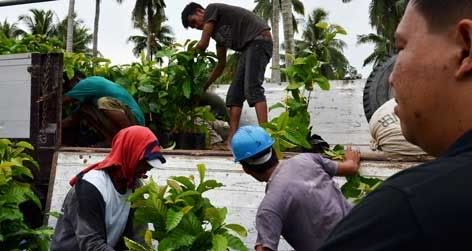 We're planning to diversify and develop an agro-forestry with rest of the idle lands back there, and if that happens, I sure would invite some of my blogging buddies for a farm home stay, big plans are up ahead.
If you're interested and want more details and guidance on your coffee farm you can contact NEDF at this number [084] 400 1807.