I was buzzing my husband if we can stay here for a night, but when we got up here all villas were occupied and we have to wait for other guests to check out if we insist. It wasn't actually our intention in the first place to check in here just to check this place out as many locals recommended it and when I started eating french fries looking at the sea, I realized, wow, I need to experience how mornings will break in here.
Yes, this is Infinity Heights Resort at the mountain top of Pili in Siquijor Island.
How to get here is something you really have to take effort to. The road was still under construction when we got here, it was graded exclusively for this resort cutting the rocky mountainside, it wasn't even cemented yet, the climb was so stiff so you need a good driver with a perfect sense of uphill and downhill maneuver, probably by now it's fully cemented already.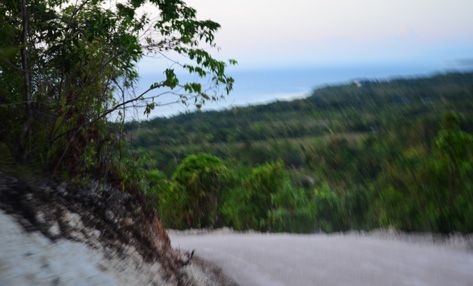 Upon entrance, we were greeted by this charming cogon-roofed tropical Cabana, we got up almost sunset so all the lights were lit and it was so romantic.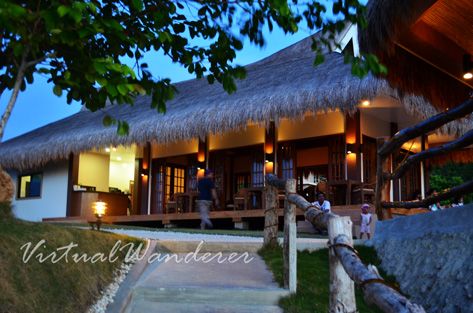 The entrance hallway is so clean and well-kept, the lawn is well manicured too, perfect for afternoon chit-chats and for spirituals – an ideal place for outdoor meditation, you can't hear car horns honking here, just birds and cicadas chirping and the sound and feel of cool breeze blowing from the sea.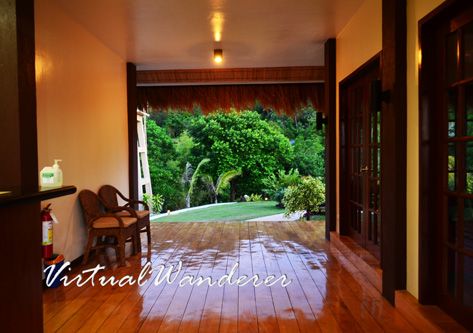 I was so excited I forgot to check on the ISO setting of my camera, I captured a dimly lit restaurant hall with a rustic furniture and gleaming glass top table picture perfectly arranged for me …  so  exquisitely tropical view against the retreating sun.

As I pass through the resort cabana, I realized the whole thing is actually set on a lone mountain with a 90-degree view of the sea, towards the left is a tropical gazebo that housed the Jungle Bar with a picturesque extended view deck. Walk-in guests are welcome to use the dining and bar facilities so we ordered pizza, French fries and beer, we thought not to indulge on liquor so much as one false, clumsy move when you're tipsy – you'll find yourself tumbling down the foot of the hill – lol, but that's already an extreme scenario, maybe I was just thinking too much.

The lawn area is perfect for mountain top weddings and other occasions, I always love places where I can have a limitless view of my surroundings and this lawn is a tailored suit to my liking, it's incredibly glorious.

As you walk down the hill, you can see the infinity pool carved by the mountainside, probably the reason why this is called Infinity Heights, so beautfiful…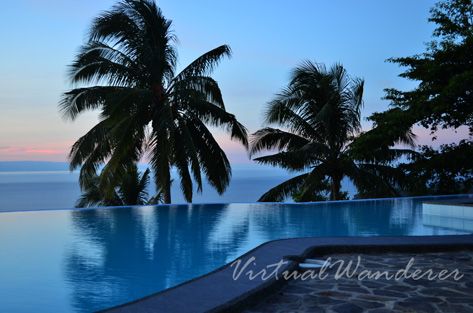 Just as you rest your chin on the edge of this pool you can see the cone-roofed villas below, they're built rounding the hill, guests can definitely see far a sea from here, it gives the eye it's moment of spirituality and tranquility far from short distanced computer and eye straining monitors we do everyday at work. Everything here is slow, faint you can do nothing but surrender to its splendor.
It's so intensely mysterious and nostalgic at dusk from this vantage point.

This is how the Sea View Villas look like when we descend the stone pavement leading to each unit. It has a spacious veranda overlooking the sea. It's  complete with first-rate amenities of a luxurious mountain top vacation. This villa is rated P4,800 a night inclusive of breakfast for two when we were there but don't stick to this rate as resorts have this clause to change price without prior notice.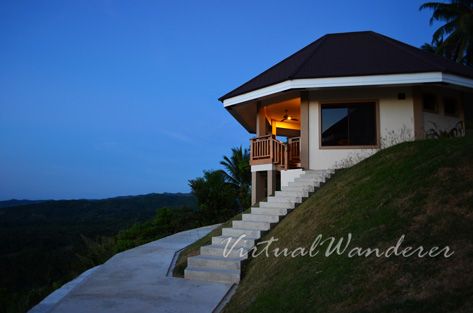 We're so lucky when we got here, as the sun dips into that horizon, the heavens showed us glorious and evocative wonders of twilight. It's one of the most enigmatic sunsets I've ever seen.
So breathtaking I could cry.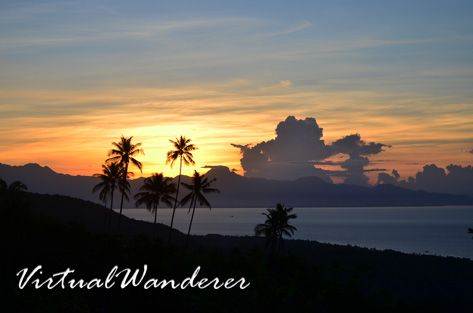 HOW TO GET TO INFINITY HEIGHTS RESORT?
Getting here is easy, bring yourself to the nearest jump off point, Dumaguete City. There are sea transports that frequents the island every hour, fare is P150.00, you have to arrange surely with the resort your booking, your arrival schedule so you can be fetched at Siquijor port.
If you're coming in from Cebu, which was the one we took, Ocean Jet sails from Pier 1 twice a day to Siquijor, there's a 6AM departure that arrives Siquijor at 11AM and or take the 3PM ride that arrives Siquijor at about 8 in the evening. Fare is P1,095.00.
They welcome walk-in guests with P50.00 as an entrance fee and its fully consumable. If you're a backpacker and have booked at a nearby place and want to come up here, there are single motorcycles at Siquijor town port area you can hire to bring you here. I have no idea how much is the 'pakyaw' fee, but people here aren't hard to deal with, they won't take advantage of you either, they're friendly, just negotiate with them nicely.
You can visit their website for more details and booking at www.infinityheightsresort.com or email them at inquiry@infinityheightsresort.com or visit their Facebook page at https://www.facebook.com/pages/Infinity-Heights-Resort/165801210210433