For well over decades, the Port of Miami in Florida has been recognized as the 'Cruise Capital of the World', it accommodates the world's biggest, most patronized and fully operational cruise lines such as Norwegian Cruise Line, the Carnival, the Royal Caribbean, etc., it also was billed to be the 'Cargo Gateway of the Americas'.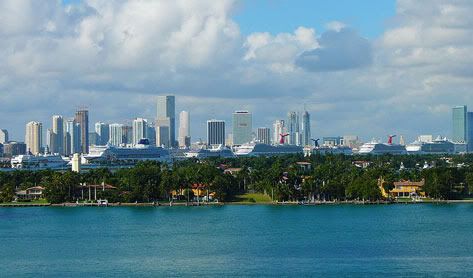 Port of Miami with cruise ships at the background
[image by wikipedia.org]
It is said that one in seven of the world's passenger cruise starts from Miami, hence, a record of more than 4.33 million passengers traveled through the Port of Miami and has impacted roughly around $18 billion to Miami's economy in 2011. Today, the Port of Miami still remain to be the busiest ports in America and with so much development projects going on it will be busier more than ever in the next years to come.

With our easy access to transportation, there's no doubt that you'll be the next to travel down 'Flowery Land'. Getting around Miami is no problem at all, Port of Miami Shuttle service is readily available for those who would want to see how life in the world's busiest port is coming along, Express Shuttle offers varied services, you can hire them to send and fetch you at any Miami airport, fetch and send you to the cruise docks or simply give you the most comfortable tour ride around Miami.
If you want to know more details about their services or want to book for a tour, you can email ExpressShuttle@yahoo.com or you can visit their website at www.expressshuttlemiami.com for rates and online reservations.