With its vibrant musical culture, active participation in sporting events, and unique approach to food, Jamaica can be an exciting place to visit… especially with a group. Here are three luxury rentals perfect for families looking to take a trip to this culturally magnificent Caribbean destination.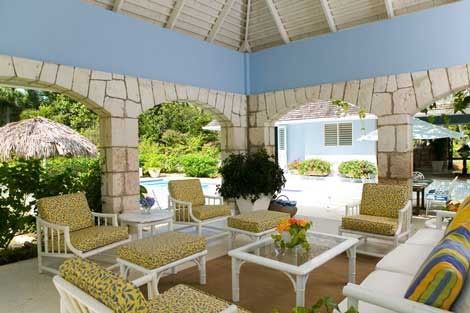 [View of Little Palm, a luxury villa in Montego Bay, Jamaica]
An excellent destination for a small family on a budget, Little Palm is part of the Tryall Club in Jamaica and rests between the 17th green of the club's luxurious golf course and a private white-sand beach reserved exclusively for those staying at the resort. With room for both parents and two children, Little Palm offers enough space to allow everyone to stretch out and relax without feeling like they have too much room, and features such as the complimentary gold cart and resort privileges (including fitness facilities, tennis, and other amenities) help keep everyone entertained to the fullest. If the resort still isn't enough, though, the lively region of Montego Bay offers plenty of nightlife and culture to help you dive right in to Jamaica's lively style.
[View of Villa Belmont, a luxury villa in Port Antonio, Jamaica]
Jamaica villas tend towards the exciting and luxurious, but only the very best can gain international recognition… and Villa Belmont in Port Antonio, with a history of hosting international dignitaries, has done exactly that. With a highly professional staff who have been with the villa for years and amenities that compete favorably with the best in all Jamaica, you might think that Villa Belmont would be a little out of the range of other renters… but if so, you'd be wrong. Villa Belmont is not only one of the most affordable villas in the Caribbean (with extra rooms being only a small increase in price), it's also capable of hosting as many as eight people, allowing for even a larger family to have plenty of space and comfort during their trip.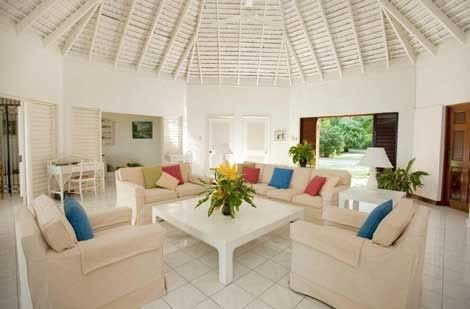 [View of Somewhere in Ocho Rios, Jamaica]
Is your family looking to stay somewhere in Jamaica, but they just aren't sure exactly where? If so, you're in luck; you can find Somewhere in Ocho Rios, along with four bedrooms (each equipped with two joinable twin beds that can become a King-size for maximum flexibility in sleeping space), a swimming pool, preferential treatment for golf, tennis courts, and even a complimentary plantation tour to let you experience a part of Jamaica that doesn't involve Jamaican Jerk Spice or music. The complimentary horseback riding tours can be a lot of fun as well, and this is a feature only available Somewhere, not simply anywhere. With fabulous views of the ocean, fun for everyone, and some unique features, a family getaway in Jamaica doesn't get any better than this.